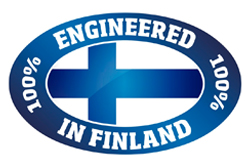 A Nordic non-studded winter tyre engineered entirely in Finland!
Triangle is a genuine Nordic winter tyre engineered entirely in Finland. The engineering and development of the tyre involved numerous test drives and other tests in Lapland and culminated in the tests by Arctic Falls, a company specializing in vehicle, component and tyre tests. Triangle assigned Arctic Falls to test Triangle SnowLink against Nokian Hakkapeliitta R. The test results clearly indicated the superiority of Finnish engineering in the development of winter tyres.

In Arctic Falls' tyre testing, each characteristic of the reference tyre (the tyre against which the given tyre is being tested) is given a value of 100. The tested tyre is then compared with the reference tyre. Any test result with a value exceeding 100 benefits the tested tyre, while any value below 100 is considered a minus. Triangle SnowLink beat Nokian Hakkapeliitta R in four of the six characteristics for which the tyres were tested. In one characteristic, the tyres scored even points.
Triangle SnowLink possesses all the qualities that you can expect from a true high-quality non-studded winter tyre:
·         Impressively low level of tyre noise
·         Superb stability and driving comfort
·         Uncompromising safety
·         Top-quality traction in Nordic winter conditions